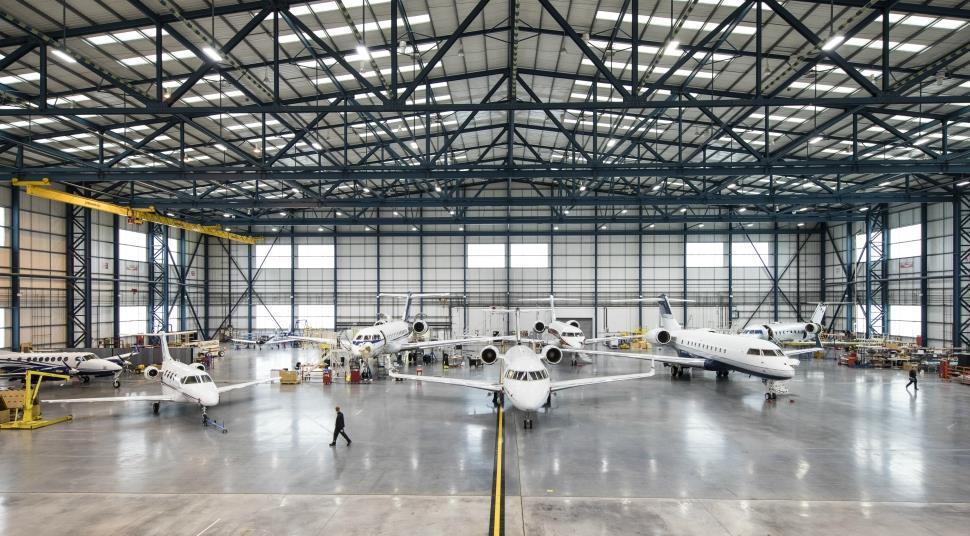 Gama Prepares MRO Expansion With New Flagship Facility | New
[ad_1]
Gama Aviation, one of the world's largest business aviation service providers, aims for rapid expansion in the maintenance industry and is considering the recent opening of a new flagship facility in Bournemouth, UK , as crucial to achieving this ambition.
Officially inaugurated on May 16, the 12,540m² (135,000 sq. Ft.) Base at Bournemouth International Airport in southern England is part of Gama's current MRO network, which includes 29 other facilities in the world.
"This is another part of a global network that we are building, so that our customers and third parties have maintenance coverage where and when they need it," says Duncan Daines, Marketing Director of Gama.
Established on a 25-year lease with airport owner Rigby Group, the Bournemouth site merges Gama's MRO operations at Farnborough – home to the company's global headquarters – and Oxford Airport. Scott McVicar, general manager of the company's ground services division in Europe, said the previous setup was "too fragmented."
"With the business jet MRO at Oxford and the turboprop support at Farnborough, this just did not reflect the quality of operation our high end customers expect from us," he said.
"Reorganizing the assistance offer under one roof – and much more extensive – is also much more efficient and allows us to grow. "
Gama spent some time looking for a suitable location for its main MRO operation. The Bournemouth facility "was a perfect size and fit," says McVicar, who points out that with other aerospace operations at the same site, such as Cobham Aviation Services, Jetworks, Signature Technicair and Thurston Aviation , there is already an established skill base in the local area.
Another key attraction is the 2,200m (7,200ft) long airport runway, which can accommodate "all types and sizes of aircraft," says McVicar.
Gama estimates the total cost of consolidating and redesigning the Bournemouth site at £ 1.2million ($ 1.5million), but that expense is overshadowed by recent awards, by undisclosed clients, of £ 90 million long-term assistance contracts for mission aircraft.
The move to the new location also allowed Gama to enter the airline MRO business for the first time, with initial deals from British Airways and TUI. "We have a flexible arrangement to provide space at Bournemouth when these carriers need additional capacity to maintain or repair their airliners," said McVicar.
Gama wishes to extend this commercial offering and build on its existing MRO support operations for business jets and turboprop engines.
Work at Bournemouth is equally split between the business aviation and defense / special missions sectors, with clients comprising high net worth individuals, corporations, governments, law enforcement agencies and air ambulance operators.
The MRO is supplied for the Beechcraft King Air series and its Premier 1 / 1A sibling; Bombardier's Challenger 600, 850 and Global series; the Cessna Citation XLS and Mustang; Embraer Heritage 600; Hawker 800 and Rockwell Aero Commander series.
McVicar says Gama could potentially expand its portfolio, "but our focus at the moment is to grow our core business, which keeps us very busy."
Gama offers a wide range of MRO services, including base and line maintenance, aircraft ground support, component overhauls, custom design and installation for special mission and VIP aircraft.
"We are particularly busy at the moment doing ADS-B [automatic dependent surveillance – broadcast] upgrades, with more and more owners and operators coming to us as Europe's June 2020 compliance deadline approaches, "said McVicar.
Although its sister division, Gama Air, is one of the largest business jet operators in the world, there is no favoritism when it comes to selecting an MRO provider.
"We act as separate companies and have to bid on contracts like everyone else," says McVicar. "Sometimes we lose to other businesses. That's the nature of this business."
Source: International Flight
[ad_2]